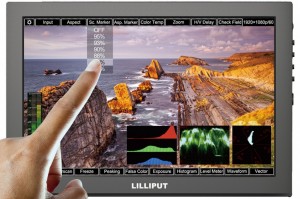 The 10'' Lilliput-1080 is a 10'' TOUCHSCREEN monitor from Macro Video.
There are 2 types, with the basic spec both  being the same .The difference is with or without 3G HD-SDI in/ out
Both types are 10'' with 1280 x 800 resolution ( supports up to 1920x 1080). 16:9 switchable to 4:3  800:1 contrast ratio, Lightweight plastic housing.
Monitor  comes supplied in an Aluminium carry case with mini HDMI  to HDMI cable , 12 volt power supply, Velcro sunshade, hotshoe ball and socket mount, Desktop stand, 2x Battery adapters, Power and Tally cable and manual.
All  models have Composite  RCA in and out, and L+ R audio RCA inputs  and VGA input
Type E  has 3G SDI in and out , HDMI in and out and pro 2 software features
Type D  has HDMI in and out and pro 2 software features
The most popular unit  is the Type E is ''full house'' and aimed at the pro user requiring  a versatile 10'' monitor with 3G HD-SDI , HDMI , VGA and Composite  with L+R audio inputs .Various mounting hardware exists to mount these into rigs / on tripods etc.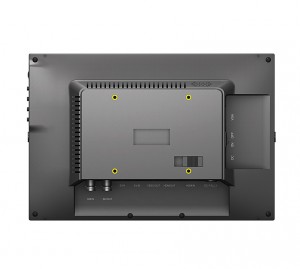 Lilliput creatively integrated waveform, vector scope, video analyser & touch control into on-camera monitor, which provides Luminance/Color/RGB histograms, Luminance/RGB parade/YCbCr parade Waveforms, Vector scope and other waveform modes; And measurement modes such as Peaking, Exposure & Audio level meter. These assist users to accurately monitor when shooting, making and playing movies/videos.
Level meter, Histogram, Waveform & Vector scope can be displayed horizontally at the same time; Professional waveform measurement & color control to realise and record Natural color.
Advanced Functions:
Histogram:
Histogram consist of RGB, Color & Luminance histograms.
RGB histogram: shows the red, green, and blue channels in overlay histogram,
Color histogram: shows histograms for each of the red, green, and blue channels,
Luminance histogram: shows the distribution of brightness in an image as a graph of luminance.

Luminance                                                                               Color

RGB overlay
Waveform
Waveform monitoring consist of Luminance, YCbCr parade & RGB parade Waveforms, which used for measuring the brightness, luminance or chroma values from a video input signal. It not only can warn the user for out-of-range conditions such as overexposure errors, but also assist with colour correction & camera white and black balance.

Y / Luminance                                                                            YCbCr parade

RGB parade                                                          Y – enlarged horizontally

Vector scope
Vector scope shows how saturated the image is and where the pixels in the image land on the color spectrum. It can also be displayed in various sizes & positions, that allows users to monitor color gamut range in real time.

Audio Level Meter
The Audio Level Meters provide numerical indicators and headroom levels.
It can generate accurate audio level displays to prevent errors during monitoring.

Audio level meter
DISPLAY
  Display Screen
  10.1″ LED IPS
  Touch Panel
  Multi-touch capacitive
  Physical Resolution
  1280×800, support up to 1920×1080
  Aspect Ratio
  16:9
  Brightness
  350cd/㎡
  Contrast
  800:1
  Viewing Angle
  170°/170°(H/V)
INPUT
  3G-SDI
  1(optional)
  HDMI
  1
  Composite
  1
  TALLY
  1
  VGA
  1
OUTPUT
  3G-SDI
  1(optional)
  HDMI
  1(optional)
  VIDEO
  1
AUDIO
  Speaker
  1(build-in)
  Ear Phone Slot
  1
POWER
  Current
  1200mA
  Input Voltage
  DC 7-24V
  Battery Plate
 Sony V-mount / Anton Bauer mount /
NPF Sony Type / DU21 Panasonic Type / LP-E6 Canon Type/ QM91D Sony type
  Power Consumption
  ≤12W
ENVIRONMENT
  Operating Temperature
  0℃~50℃
  Storage Temperature
  -20℃~60℃
DIMENSION
  Dimension(LWD)
  250×170×29.6mm
  Weight
  630g
Accessories: 
| | | |
| --- | --- | --- |
| Suitcase | Shoe Mount | HDMI A/C cable |
| | | |
| 12V DC adapter | Anton Bauer Mount Plate (optional) | VESA rail slot (optional) |
| | | |
| Mount plate bracket |  Mini XLR | Manual |
| | | |
| Car power cord (optional) |  Li-ion battery (optional) | VGA cable (optional) |
| | | |
| Battery Plate | Composite cable | Desktop Stand |
| | | |
| V-mount battery plate (optional) | VESA folding bracket(optional) | VESA battery bracket(optional) |