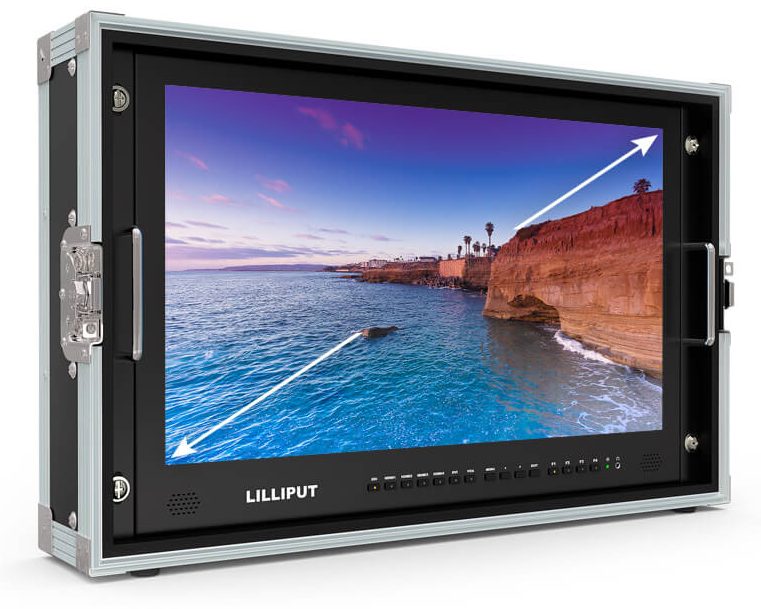 The Lilliput BM range of Broadcast field monitors  are designed for professional film makers and studios. These monitors have superior image quality and colour definition at an affordable price, recently upgraded the BM range now supports 3D-Lut and HDR function.
With an Ultra HD screen panel and features designed for portability it's ideal for video review on the go.
All three BM models share the same features and specifications. Only the panel size differs
Model : BM150-4KS = 15.6'' Panel
Model : BM280-4KS = 28'' Panel
These monitors are presented in a good sturdy Aluminium case . They do not have pro features such as Waveform, Vectorscope or Histograms etc, but  have more basic features like peaking and  overscan. All inputs are accessed via buttons on the front panel . These monitors are specified as 4K, which is only via HDMI inputs. The 15'' monitor specifically  is  especially  well priced and can be taken out of its Alu case and mounted in a 19'' rack, or on feet as a free standing unit.
Both BM series monitors come  with one SDI input and SDI output, four HDMI inputs ( No HDMI outputs) capable of Quad view, Stereo RCA audio inputs, DVI input, VGA input and Tally input . Supplied accessories are a sunshield, 15V power supply, Sony V lock battery plate ( or Anton Bauer on request )  with a D Tap power cable, and manual.
Main Features are :
Up to 4K (3840*2160) Ultra-HD native resolution
3 popular sizes , all in Aluminium carry cases
High contrast: 1000:1
300 – 450 cd/m² brightness
176° Ultra high viewing angle
Popular interfaces: 3G-SDI, HDMI, DVI & VGA
Wide voltage: DC12-24V.
4K Ultra-HD resolution and Connectivity
The BM150-4KS monitor features the latest 4K imaging technology. Connected through by HDMI 2.0, 4K screens are Ultra HD – containing 8.3 million pixels making the resolution four times more powerful than full HD making them the ultimate in cinematic displays. The monitor comes with  the major video standards used in commercial and the video industry and can connect using either HDMI or SDI for standard 1080p and below resolutions. This gives the ability to meet the needs of any professional display solution
Image flip mode – View it your way
Integrate the monitor into your current workflow at whatever angle you choose. X flip – Y flip functionality gives you that flexibilty
4 way split screen display
The BM150-4KS monitor supports 4 independent HDMI input signals simultaneously making it easier than ever to view your set from 4 separate sources.
Precision colours with 1000:1 contrast ratio
The BM series has a 1000:1 contrast ratio and 300- 450 cd/m brightness ratio, giving you sharper pictures and rich colours. Enjoy more detailed images than ever before.
Carry-on suitcase for superior protection
The monitor comes with a specially designed Aluminium flight case for greater robustness and portability. The open design also allows for  heat radiation and ensures greater reliability over longer shoots
Programmable Function keys
4 Programmable function keys on the front of the monitor allow you to shortcut to your most used functions, such as peaking, overscan, check field, image flip etc.
Wireless HDMI receiver (OPTIONAL)
With wireless HDMI (wHDI) technology you can transmit 1080p 60Hz signals direct to the monitor without the need for cables, making for a much more portable solution when on set. One transmitter can connect to multiple receiver units giving you a video village without the need for cables.
Specifications of BM Series
DISPLAY
  Display Screen
  15.6″/28″  8bit
  Physical Resolution
  3840×2160, 4K
  Aspect Ratio
  16:9
  Brightness
  330/450 cd/m²
  Contrast
  1000:1
  Viewing Angle
  176°/176°(H/V)
INPUT
  3G-SDI
  1
  Wireless HDMI
  1 (optional)
  HDMI
  HDMI 2.0×1 (4K@60Hz) HDMI 1.4×3 (4K@30Hz)
  DVI
  1
  VGA
  1
  Audio
  2 (L/R)
  TALLY
  1
OUTPUT
  3G-SDI
  1
AUDIO
  Speaker
  1
  Ear Phone Slot
  1
POWER
  Current
  1A (15V)
  Input Voltage
  DC 12-24V (XLR)
  Battery Plate
  V-mount / Anton Bauer mount
  Power Consumption
  ≤15W
ENVIRONMENT
  Operating Temperature
  0℃~60℃
  Storage Temperature
  -20℃~60℃
DIMENSION 15.6″
  Dimension(LWD)
  389×267×38mm / 524×305×170mm (with case)
  Weight
  3.4kg / 12kg (with case)
DIMENSION 28″
  Dimension(LWD)
  670×425×45mm
/ 761×474×173mm (with case)
  Weight
  9.4kg / 23.5kg (with case)

Supplied Accessories
| | | |
| --- | --- | --- |
| TALLY Connector | Battery plate bracket | WHDI Accessories (optional) |
| | | |
| 15V DC adapter | Flexible folding sun shade | V-mount / Anton Bauer mount |
| | | |
| Carry-on suitcase | V-mount / Anton Bauer mount power cable | Fixing Belt |
| | | |
| Manual | | |