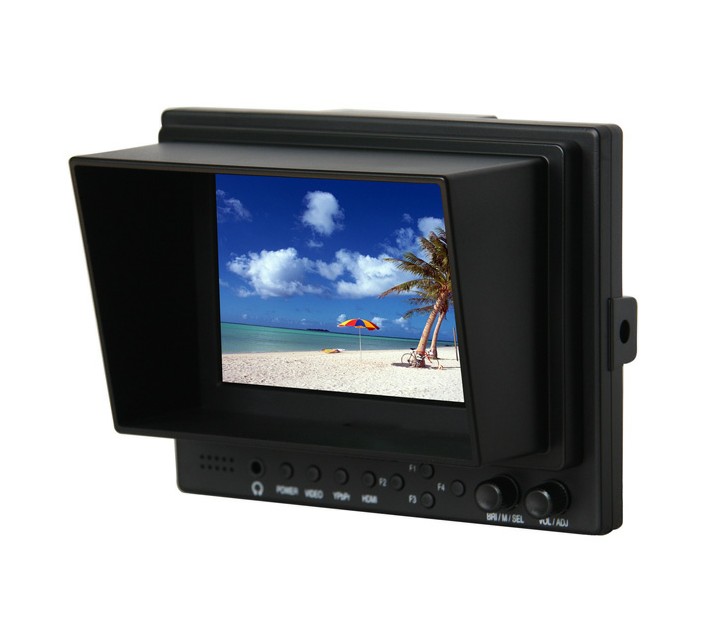 The  5'' Lilliput  model 569 from Macro Video is a compact lightweight monitor popular for use with DSLR's .
There are 4 types, with the basic spec for all 4 being the same .The different in and outputs and Pro software define Type A-D
ALL types are 5'' with 800 x 400 resolution ( supports up to 1920x 1080). 16:9 aspect ratio switchable to 4:3 , 600:1 contrast ratio, Compact plastic housing. The monitor  comes  in a cardboard box with 12 volt power supply, Clip on  sunshade,  2x Battery adapters, and manual.
All  models have Composite and Component BNC in, Mono audio RCA in and Composite out
Type D  has HDMI in and out and pro software features
Type C  has HDMI only, and has pro software features
Type B  has HDMI in and out , no software features
Type A  has HDMI in only, no pro software features
Type D, aimed at the DSLR user  has all the pro software features a DSLR user would require Type B is the basic monitor with HDMI in and out but no  software features
Various mounting hardware exists to mount these into rigs / on tripods etc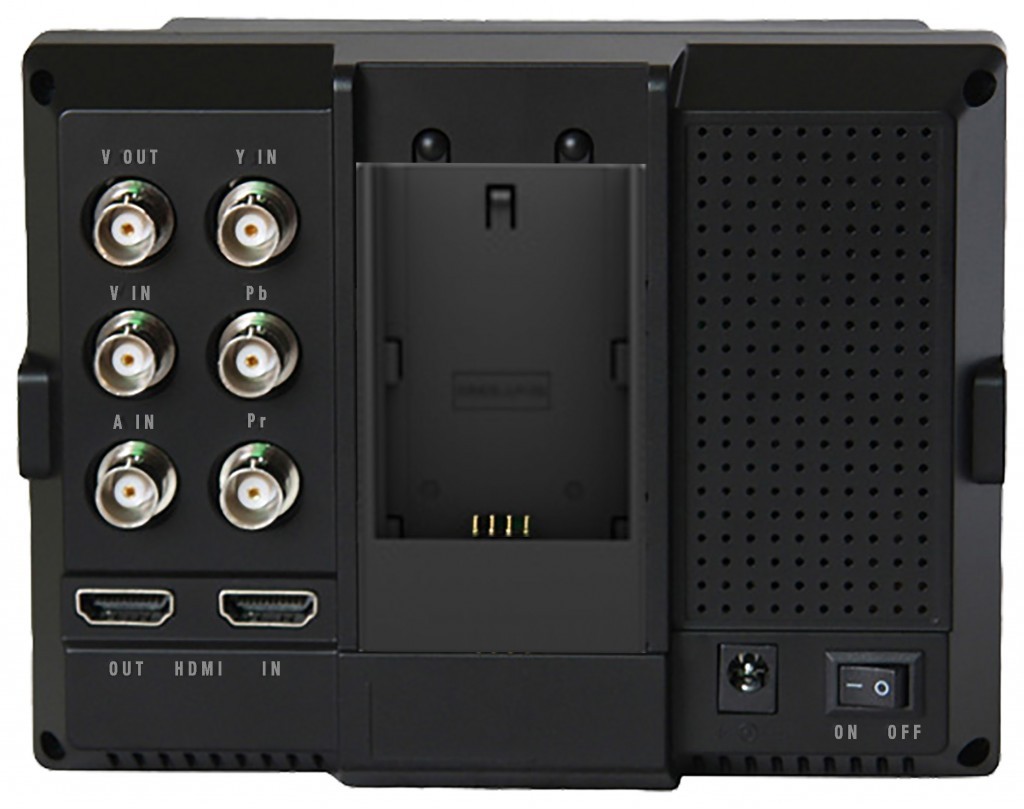 SPECIFICATIONS OF LILLIPUT 569  TYPE D :
High resolution: 800×480,
High brightness: 400cd/㎡,
High contrast: 600:1,
5D-II camera mode,
Wide voltage: DC 6-24V,
With advanced functions,
HDMI input & output
The Lilliput 569 is a 5 inch 16:9 LED field monitor with HDMI, component video and sun hood. Comes with peaking and focus assist tools and is optimised for DSLR cameras.

5 inch monitor with wide screen aspect ratio
The 569 is Lilliput's compact, 5″ monitor. The high resolution 5″ LCD displays pin-sharp images on a compact and lightweight monitor, ideal for customers looking for an external monitor that won't weigh them down.
Optimised for DSLR cameras
The 569 is the perfect external field monitor. Providing more screen real estate than the built-in LCD on most DSLRs and featuring some of the highest specifications found on a Lilliput monitor this 5″ monitor is quickly becoming many DSLR users best friend!

Better Advanced Functions
Providing advanced camera auxiliary functions. Peaking, False Color, Histogram & Exposure,etc., are major concerns with DSLR users. Lilliput's field monitors are great at displaying accurate images, 569 makes photoing & recording even easier with its functionality.

HDMI video output – no annoying splitters required
Most DSLRs only have one HDMI video input, so customers need to buy expensive and cumbersome HDMI splitters to connect more than one monitor to the camera.
The 569 includes an HDMI-output feature which allows customers to duplicate the video content onto a second monitor – no annoying HDMI splitters required. The second monitor can be any size and picture quality will not be affected.

High resolution 800×480
Squeezing 384,000 pixels onto a 5″ LCD panel creates a pin-sharp picture. When your full 1080p/1080i content is scaled onto this monitor, the image quality is stunning and you can pick out every detail even on this compact monitor.

High contrast ratio 600:1
The 569 might be our smallest HDMI monitor, but it boasts the highest contrast ratio found on any Lilliput monitor, thanks to improved LED backlight technology. With enhanced colour representation, DSLR users can rejoice that what they see on the monitor is what they get in post production.

Enhanced brightness, great outdoor performance
Featuring a 400 cd/㎡ backlight, the 569 produces a vivid and crystal clear picture. Your video content won't look 'washed out' when the 569 is used under sun light thanks to a boosted brightness LCD. The inclusive sunhood also provides even better outdoors performance.

Wide viewing angles
With a stunning 150 degrees viewing angle, you can get the same vivid picture from wherever you are standing.

Battery plates included
The 569 includes two battery plates compatible with Sony NPF type e.g. NPF 970, NPF 550, Canon LP-E6 as used on Canon 5D models , Panasonic CGA-DU21, and the smaller Sony QM91D batteries.

HDMI, and component and composite through BNC connectors
No matter which camera or AV equipment our customers use with the 569, there is a video input to suit all applications.
Most DSLR cameras ship with an HDMI output, but larger production cameras output HD component and regular composite through BNC connectors.
DISPLAY
  Panel
  5″ LED backlit
  Physical Resolution
  800×480, support up to 1920×1080
  Aspect Ratio
  16:9
  Brightness
  400cd/㎡
  Contrast
  600:1
  Viewing Angle
  150°/130°(H/V)
INPUT
  HDMI
  1
  YPbPr
  3(BNC)
  VIDEO
  1
  AUDIO
  1
OUTPUT
  VIDEO
  1
  HDMI
  1(optional)
AUDIO
  Speaker
  1(built-in)
  Ear Phone Slot
  1
POWER
  Current
  450mA
  Input Voltage
  DC 6-24V
  Battery Plate
  NPF Sony Type / DU21 Panasonic Type / LP-E6 Canon Type / QM91D Sony type
  Power Consumption
  ≤6W
ENVIRONMENT
  Operating Temperature
  -20℃~60℃
  Storage Temperature
  -30℃~70℃
DIMENSION
  Dimension(LWD)
  151×116×39.5/98.1mm(with cover)
  Weight
  316g/386g(with cover)
Accessories:
| | | |
| --- | --- | --- |
| 5″ Sun Shade | Manual | HDMI A/C cable (optional) |
| | | |
| Battery Plate | Shoe Mount (optional) | 12V DC adapter |
| | | |
| Li-ion battery (optional) | | |