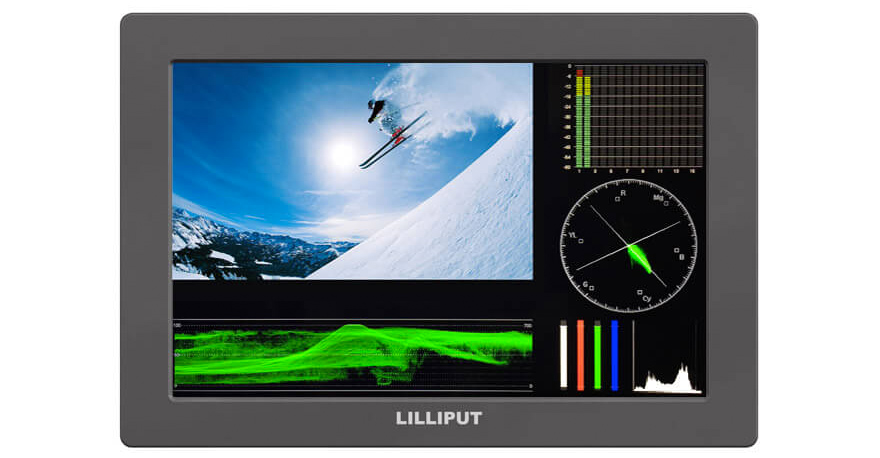 The Lilliput  Q7 Pro ( 7'') and Q5, (5'') Type E+ from Macro Video are Full HD monitors with SDI in and out and HDMI in and out .Both monitors are Type E+ as they also cross convert from HDMI to SDI and HDMI to SDI. There are no SD inputs.
The units runs on a variety of power sources as they are supplied with 220-12V power supply and Sony NPF, Canon LP-E-6 and
Panasonic DU-21 or CGR battery adapter plates. Also supplied are a  mini HDMI  to HDMI cable, Velcro sunshade, hotshoe ball and socket mount, and manual. A Sony V lock or Anton Bauer battery mount, Vesa battery bracket, is optionally available for the Q7, not the Q5.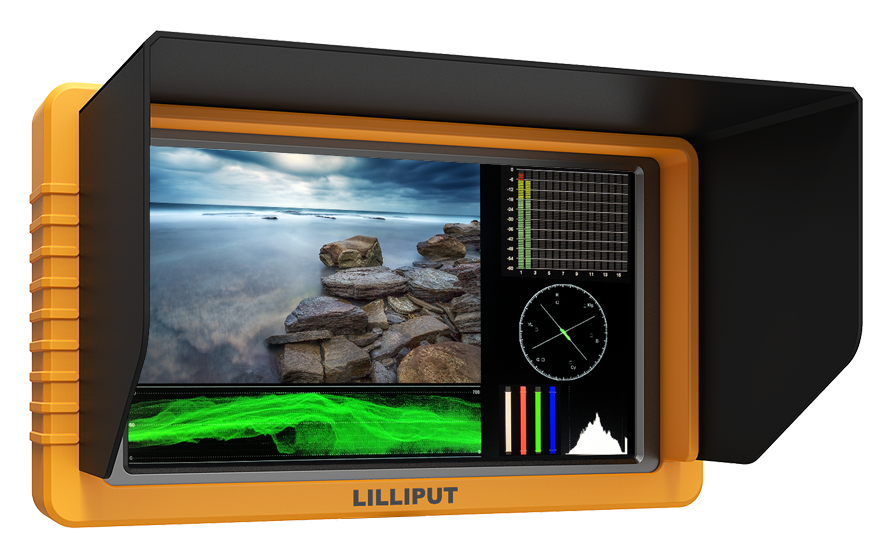 Aluminium carry cases and Padded nylon cases are available as an option and are essential to protect your monitor. A desktop stand is also optional. 
Main features are :
1920×1200, Full HD resolution
500cd/m² high brightness
1000:1 high contrast
Waveform PIP mode
Column (YRGB peak), time code
SDI and HDMI cross conversion
Metal housing, only 22mm thick
Precise Color
Due  to this monitor 1920×1200 Full HD resolution, 1000:1 high contrast, 170° wide viewing angles, features 7″  and 16:10 LCD panel with 500cd/m² high brightness, it offers an outstanding viewing experience, 4 times clearer  than a standard definition display.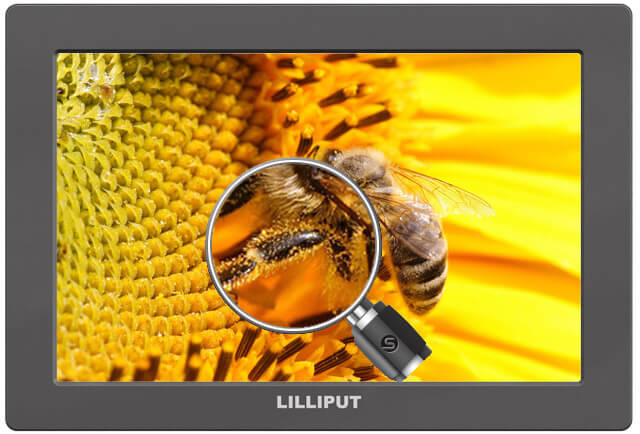 Integrated New Advanced Functions
Lilliput creatively integrated column (YRGB peak), time code, waveform, vector scope & audio level meter into this field monitor.


Waveform PiP mode                      Waveform Y – enlarged horizontally mode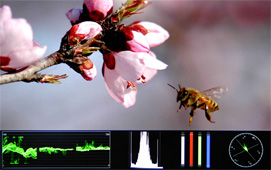 Full screen mode
Metal Housing Design
Thinner (22mm) with a robust metal body, makes for better protection from vibration, falls & a harsh environment. Longer life time for the device.
SDI and HDMI Cross Conversion
The unit features high quality HDMI & 3G-SDI inputs and outputs.
The HDMI output connector can actively transmit an HDMI input signal or output an HDMI signal that has been converted from an SDI signal. The same goes for SDI , ie  signal transmitted from SDI input to HDMI output and from HDMI input to SDI output.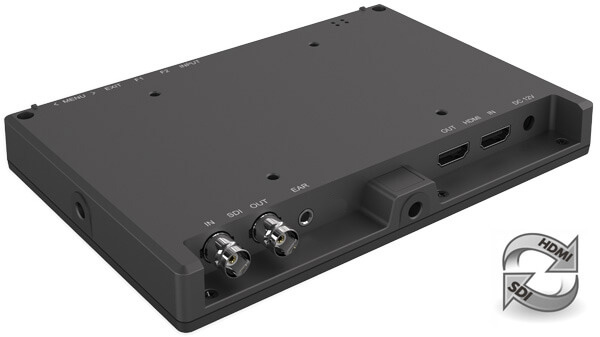 Pixel Zoom
Creatively integrated Pixel Zoom function in the  Q7 can enlarge a selected area and make details of image more visible.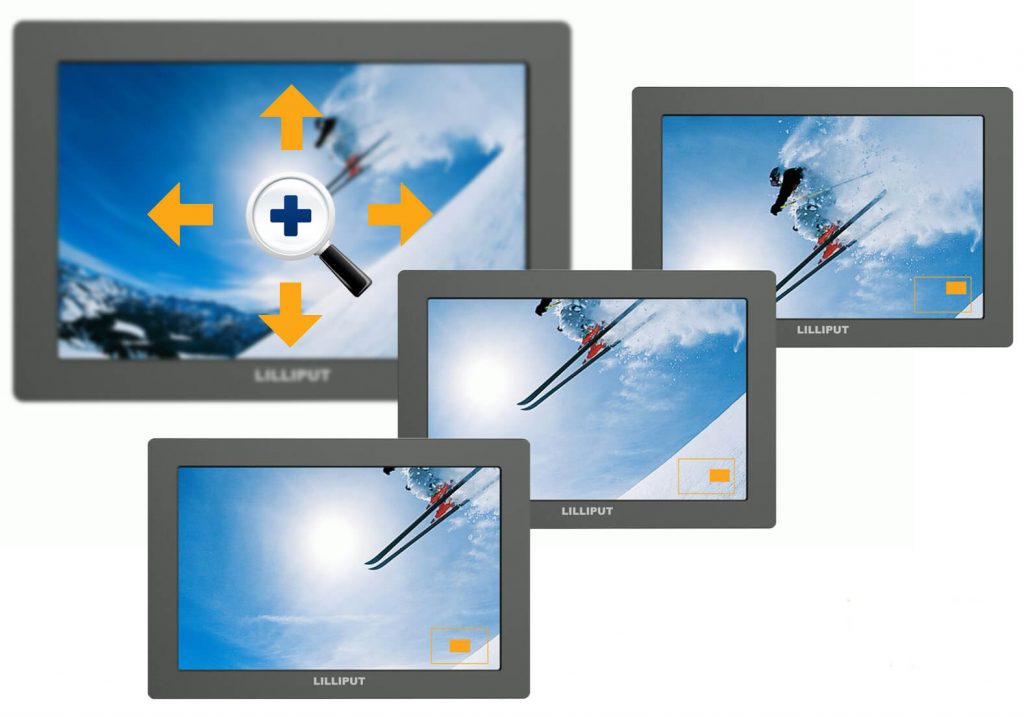 More Auxiliary Functions
More professional functions assist users to accurately monitor when shooting, making and playing movies/videos.


Specifications:
DISPLAY
  Display Screen
  7″ IPS / 5″ IPS
  Physical Resolution
  1920×1200
  Aspect Ratio
  16:10
  Brightness
  500cd/m2 / 450cd/m2
  Contrast
  1000:1
  Viewing Angle
  170°/170°(H/V) / 160°/160°(H/V)
INPUT
  3G-SDI
  1
  HDMI
  1
OUTPUT
  3G-SDI
  1
  HDMI
  1
AUDIO
  Speaker
  1
  Ear Phone Slot
  1
SDI FORMAT
  SMPTE-125M
  480i(59.94)
1080i(60/59.94/50)
1080p(30/29.97/25/24/24sF/23.98/23.98sF)
  SMPTE-292M
  1080p(30/29.97/25/24/24sF/23.98/23.98sF)
  SMPTE-296M
  720p(60/59.94/50/30/29/25/24/23.98)
  SMPTE-372M
  720p(60/59.94/50)
1080i(29.97/25/24/23.98)
1080p(60/59.94/50/30/29.97/25/24/23.98)
  SMPTE-425M-AB
  1080p(60/59.94/50)
  -Level A & Level B
  720p(60/59.94/50/30/29.97/25/24/23.98)
  Level B 2x
  1080i(60/59.94/50)
  ITU-R BT.656
  576i(50)
HDMI FORMAT
  Full HD ~ HD
  1080p, 1080i, 720p, 576p, 576i, 480p, 486i
POWER
  Current
  1A
  Input Voltage
  DC 7-24V
  Battery Plate
  V-mount / Anton Bauer mount /
F970 / QM91D / DU21 / LP-E6 (not for Q5)
  Power Consumption
  ≤12W
ENVIRONMENT
  Operating Temperature
  -20℃~60℃
  Storage Temperature
  -30℃~70℃
DIMENSION
  Dimension(LWD)
  182×124×22mm / 150x90x20mm
  Weight
  405g / 320g
| | | |
| --- | --- | --- |
| Shoe Mount | HDMI A/C cable | 12V DC adapter |
| | | |
| Anton Bauer Mount Plate (optional) (Not for Q5) | VESA battery bracket (Not for Q5) | Manual |
| | | |
| Li-ion battery (optional) | Battery Plate | Mount plate bracket (Not for Q5) |
| | | |
| Sunshade | V-mount battery plate (optional) (Not for Q5) | |