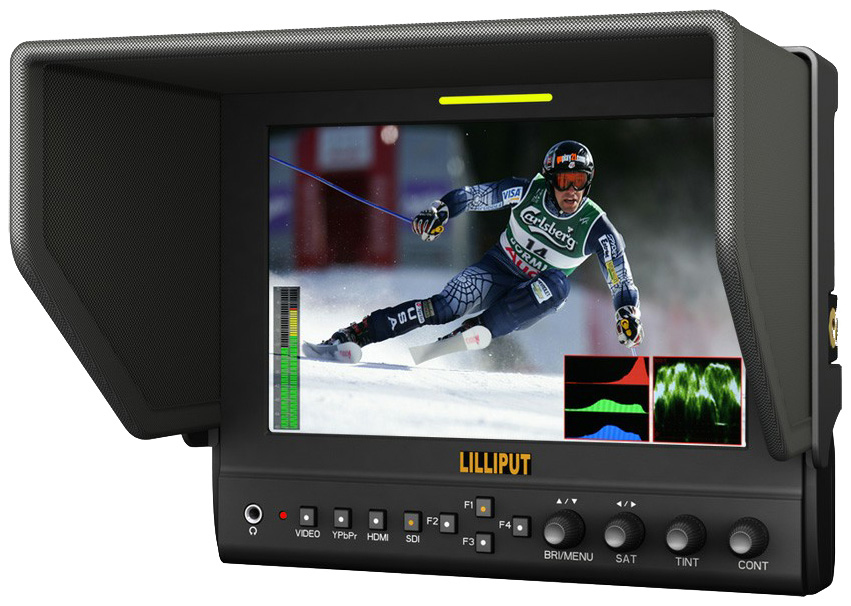 The Lilliput 663  7'' from Macro Video is the ''S2 '' with series two pro software features ( where applicable)  It can run on 220V mains  or different batteries
There are 5 types, with the basic spec for all 5 being the same .The different in and outputs and Pro software define Type A-E
ALL types are 7'' with 1280 x 800 resolution ( supports up to 1920x 1080). 16:9 aspect ratio switchable to 4:3, 800:1 contrast ratio, Aluminium housing.
Monitor  comes supplied in an Aluminium carry case with mini HDMI  to HDMI cable , 12 volt power supply, Velcro sunshade, hotshoe ball and socket mount, Desktop stand, 2x Battery adapters, Power and Tally cable and manual.
All  models have Composite and Component BNC  and L+ R audio RCA inputs
Type E  has 3G SDI in and out , HDMI in and out and pro software features
Type D  has HDMI in and out and pro software features
Type C  has HDMI only, and has pro software features
Type B  has HDMI in and out , no software features
Type A  has HDMI in only, no pro software features
Our most popular units are :
Type E is ''full house'' and aimed at the pro user requiring SDI . The series two pro software would have everything and more you may require like audio levels on screen, and all the other pro features like histograms, safe area, false colours  etc. See specs, functions and accessories included copied below.
Type D without SDI is a lot cheaper and aimed at the DSLR user. The Type'' D'' has all the Pro software features like Type E
Type B is the basic monitor with HDMI in and out but no  software features
Various mounting hardware exists to mount these into rigs / on tripods etc.
Sony V lock or Anton Bauer battery mount is an optional accessory.
Pro software functions: Histogram, Waveform, Vector Scope and Audio meter level make the product ideal for professional use. With the histogram, you can check the exposure and do the exposure compensation adjustment immediately. Those functions will provide great help when shooting video or make a film.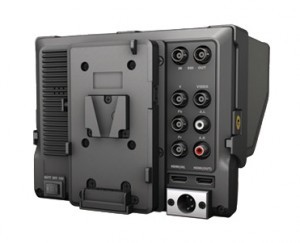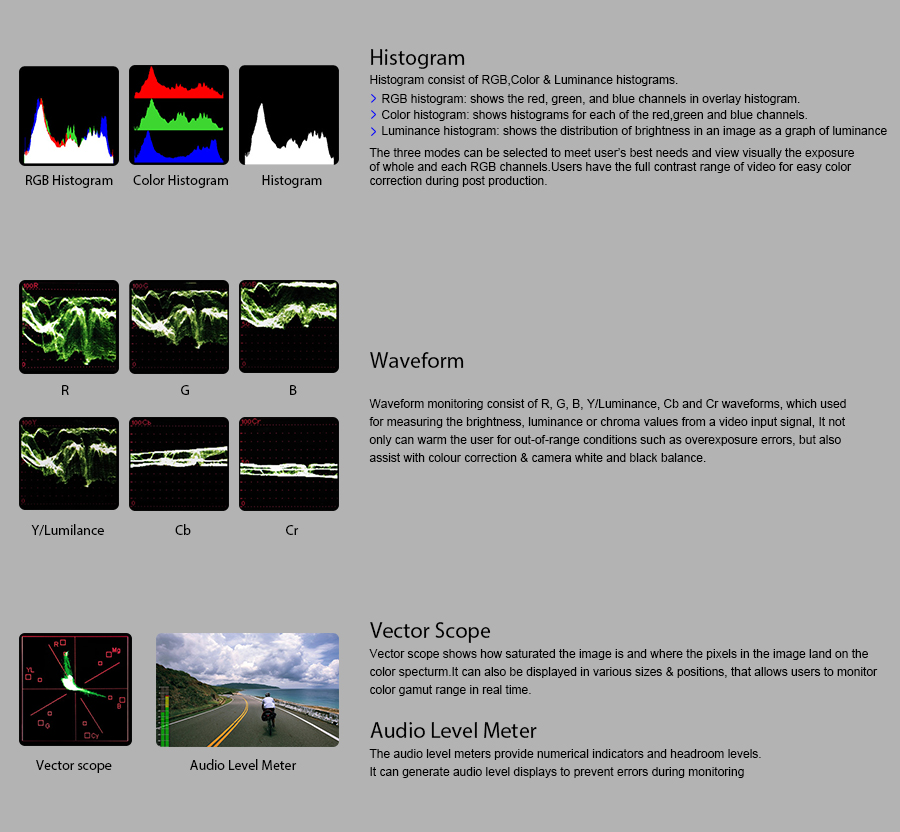 Lilliput 663 7'' type E Series 2 is the upgraded version of Lilliput 663 series 1. Both have great performance with resolutions of 1280×800, supporting up to 1920×1080. Series 2  has also been upgraded with new functions where Lilliput creatively integrated waveform, vector scope & video analyzer into on-camera monitor, which provides luminance/color/RGB histograms, Y /Luminance, Cb, Cr, R, G&B waveforms, Vector scope and other waveform modes, as well as  measurement modes such as peaking, exposure & Audio level meter. These assist users of the monitor more accurately when shooting. And also makes this monitor perform better than other products.
Lilliput 663 7'' type E Series 2 is compatible with most of  cameras and camcorders, and is Optimized for Full HD Camcorder.

7 inch monitor with wide screen aspect ratio
The Lilliput 663 monitor has a 1280×800 resolution, 7″ IPS panel, perfect combination for use and the ideal size to fit neatly in a camera bag.

3G-SDI, HDMI, and component and composite through BNC connectors
No matter which camera or AV equipment our customers use with the 663, there is a video input to suit all applications.

Optimised for Full HD Camcorder
Compact size and peaking functionality are the perfect complements to your Full HD Camcorder's features.

Better Advanced Functions
Providing advanced camera auxiliary functions. Peaking, False Color, Histogram & Exposure, etc., are major concerns with camcorder users. Lilliput's field monitors are great at displaying accurate images, 663 makes photography & recording even easier with its functionality.

Foldable sunhood becomes screen protector
Customers frequently asked Lilliput how to prevent their monitor's LCD from getting scratched, especially in transit. Lilliput responded by designing 663's smart screen protector that folds out to become a sun hood. This solution provides protection for the LCD and saves space in the customers camera bag.

HDMI video output – no annoying splitters
Most DSLRs only have one HDMI video output, so customers need to buy expensive and cumbersome HDMI splitters to connect more than one monitor to the camera.
663 includes an HDMI-output feature which allows customers to duplicate the video content onto a second monitor – no annoying HDMI splitters required. The second monitor can be any size and picture quality will not be affected.

High resolution
Lilliput's intelligent HD scaling technology  has worked wonders for our customers. But some customers need higher physical resolutions. The Lilliput 663 monitor uses the latest LED-backlit display panels that feature 25% higher physical resolutions. This provides higher levels of detail and image accuracy.

High contrast ratio
The Lilliput 663 monitor provides even more innovations to pro-video customers with its super-high contrast LCD. The 800:1 contrast ratio produces colours that are vivid, rich – and importantly – accurate.

Configurable to suit your style
Since Lilliput introduced the complete range of HDMI monitors, we have had countless requests from our customers to make changes to improve our offering. Some features have been included as standard on 663. Users can customize the 4 programmable function buttons (namely F1, F2, F3, F4) for shortcut operation according to different needs.

Wide viewing angles
Lilliput's monitor with the widest viewing angle has arrived! With a stunning 178 degrees viewing angle both vertically and horizontally, you can get the same vivid picture from wherever you are standing.
DISPLAY
  Panel
  7″ IPS
  Physical Resolution
  1280×800, support up to 1920×1080
  Aspect Ratio
  16:9
  Brightness
  400cd/㎡
  Contrast
  800:1
  Viewing Angle
  178°/178°(H/V)
INPUT
  3G-SDI
  1
  HDMI
  1
  YPbPr
  3(BNC)
  VIDEO
  1
  AUDIO
  2(L/R)
OUTPUT
  3G-SDI
  1
  HDMI
  1
AUDIO
  Speaker
  1(built-in)
  Ear Phone Slot
  1
POWER
  Current
  900mA
  Input Voltage
  DC 7-24V(XLR)
  Battery Plate
 Sony V-mount / Anton Bauer mount /
NPF Sony Type / DU21 Panasonic Type / LP-E6 Canon Type/ QM91D Sony type
  Power Consumption
  ≤11W
ENVIRONMENT
  Operating Temperature
  -20℃~60℃
  Storage Temperature
  -30℃~70℃
DIMENSION
  Dimension(LWD)
  191.5×152×31 / 141mm (with cover)
  Weight
  760g / 938g (with cover)/ 2160g (with suitcase)
Supplied Accessories: 
| | | |
| --- | --- | --- |
| Suitcase | Battery Mount plate bracket | Power & TALLY cable |
| | | |
| V-mount battery plate (optional) | Desktop Stand | Shoe Mount |
| | | |
| Flexible folding sun shade | 12V DC adapter | Anton Bauer Mount Plate (optional) |
| | | |
| Battery Plate | HDMI A/C cable | Manual |
| | | |
| Li-ion battery (optional) | | |