MVLP LED LIGHT & LIGHTING KIT Customer Feedback – Volume 3
The Natural Unlit Look With A Battery
Greg Shaw is a Professional Lighting Cameraman whose professional career started with a baptism of fire working for ITN News and later with CBS, covering the township protests and political turmoil in South Africa in the last 5 years of apartheid. He covered South Africa's first democratic elections for Sky News and over the years has worked for many international news channels covering both hard and soft news.
Greg has shot documentaries, dramas, commercials, sport shows, reality shows and m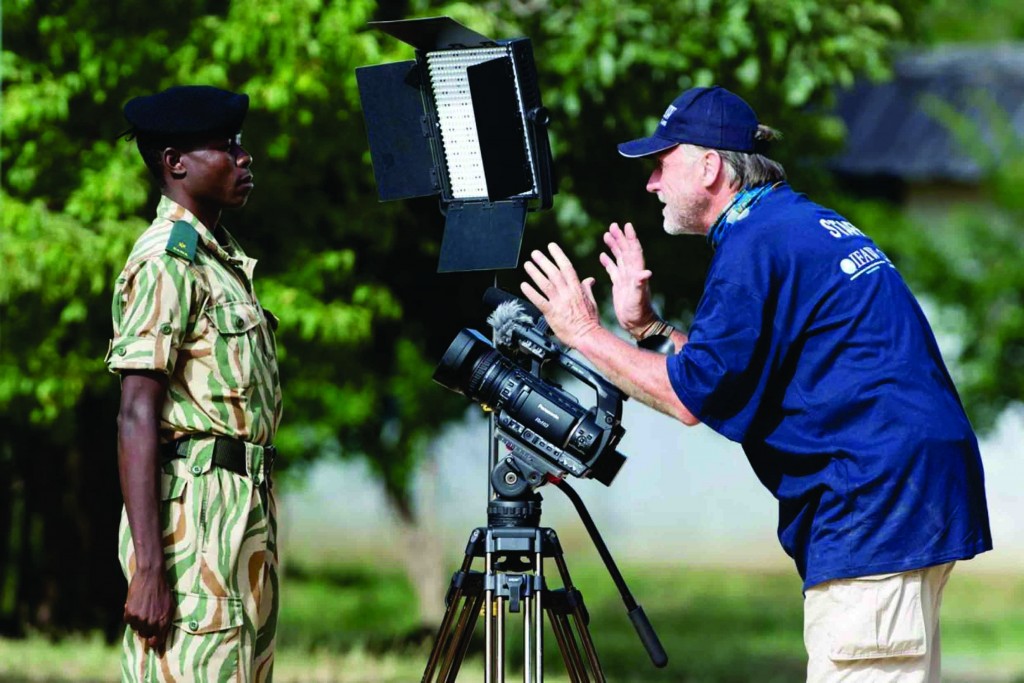 ulti-screen productions. He was also recently part of the NBC team covering the memorial ceremonies for Nelson Mandela. For Greg, this was a great privilege, having been a part of the crew that captured Mandela placing his first vote in a ballot box. He has filmed for 60 Minutes USA, National Geographic, Discovery, The Daily Show, The Today Show and, more recently, part of the "Fear Factor India" shot in Cape Town. He covered the Shrien Dewani hearings for ITN as well. Greg was also commissioned by International Fund for Animal Welfare to document their new partnership with Game Rangers International in Zambia. See photo of Zambian anti-poaching unit.
Greg worked on the Oscar Pretorius trial for CBS News., See photo: Journalists outside the high court in Pretoria waiting for a shot of Pretorius.
Greg relates: ''We had a make -shift up-link from outside the courts to go live at a moment's notice. My MVLP-6 Led Light powered by battery gave me enough light on the presenter and I was even complimented by New York for the natural look (unlit) that we achieved. The beauty also being that the Vlock battery gave us almost half a day before we had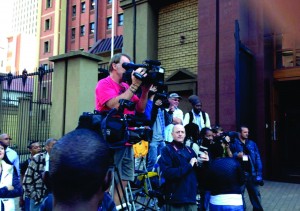 to change it. We also had to do interviews inside the building of the court. For this I achieved a really nice skin tone by sliding in the rose /magenta filter on the front to combat the fluorescents.''
'' I am a great believer that documentaries shouldn't look lit and the MVLP-6'S LED's soft light helps me a lot with this, unlike a redhead which is hard and needs diffusion most times. Quite often I am forced to bump the light at full intensity straight into the presenter's face from close range, and have never had a problem with the squinting of the eyes because it was too harsh.''
For me working in Africa where the power is inconsistent, my battery operated MVLP-6 LED light is the way to go! Purchased from DigiVision, Cape Town, in May 2013, my MVLP-6 serial number #6217 has been transported all over southern Africa and is performing flawlessly. Greg Shaw is available for shoots in southern Africa and overseas. Visit: www.gregshawpictures.com
Brewing with LED technology 20 years on
Homebrew Films is a Television and Film Production company based in the heart of Cape Town.
Homebrew Films has been producing TV shows for more than 20 years for a variety of TV channels ( local as well as international ).  Homebrew Films has produced shows in just about all the genres in television, from documentary to drama to magazine and reality, and currently has a crew of about 40 personnel.
Tania Reed, Senior Production Manager reports that they purchased 4x MVLP-6 LED panels in 2014 and then purchased another 4 in the first half of 2015 . These were supplied by the local dealer, DigiVision Broadcast and Professional Video sales, based in Cape Town.
Tania continues: '' We currently produce a number of award winning shows for kykNET which include Kokkedoor, Koekedoor, Kwêla, Bravo, Jou Show, Groen and Glam Guru. We have also won SAFTAS for Bravo and All Access in the Magazine Category.  We have recently won 5 Media Veertjies for our shows on kykNET.
Besides the shows for kykNET, we also produce Tech Report for eNCA and we have produced two series of Shoreline for SABC.  In the international market, we produced shows for Animal Planet and we are also very excited about producing a new cooking show for BBC Lifestyle. '' For more information on our production company, go to www.homebrewfilms.co.za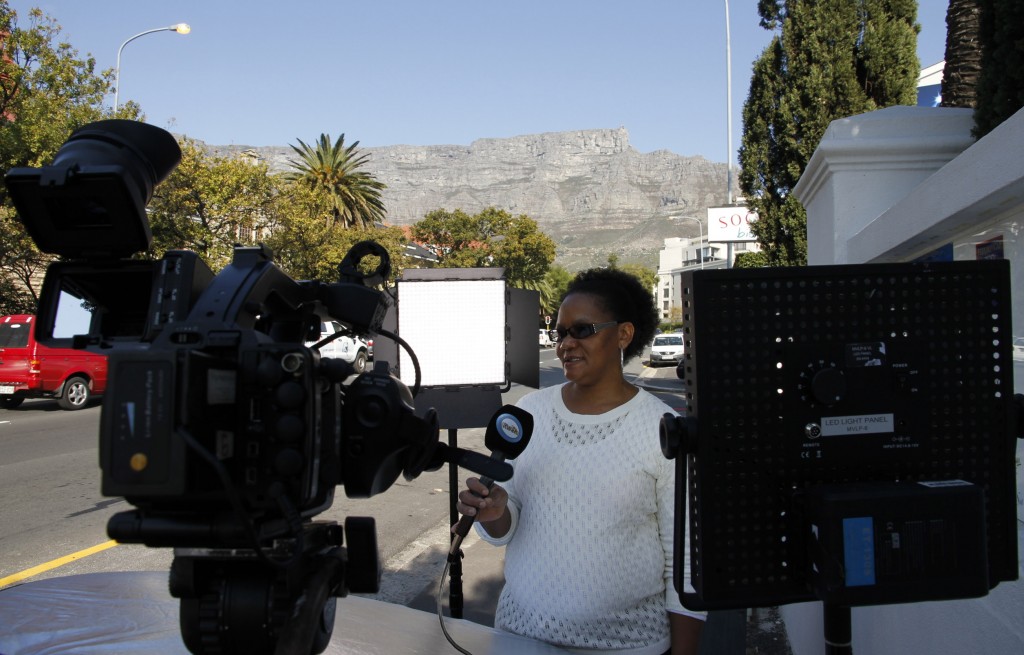 '' The MVLP LED lights are used on most of our location shoots including Bravo!, Kwêla, Glam Guru and Tech Report locations shoots. These LED lights are very useful when we are on location where there are often no power points. The MVLP-6 come with Sony V mounts and we use batteries a lot also where using power cables will be dangerous or difficult. With so much stuff on set, it's great not to have to worry about extra cabling and extension cords for our lighting
We chose MVLP-6 LED lights as LED's use less power and don't generate as much heat.  It is the safer option to use because you don't stand a chance of a bulb or fluorescent tube exploding and something catching fire.  LED's are quite tough and the lights can take a beating when on location. LED 1×1'S are more mobile than other lights and you can shoot from any angle, and can be used , hand held , as reflector boards when there is no sun using a dimmer knob on the unit . A supplied wired dimmer is useful when mounting the lights on stands. We find the 4 supplied filters with the MVLP-6 very handy. You can either use daylight or tungsten and there are a further two diffusing filters also supplied.''
MVLP-6 gets elected
ANN7 (African News Network) is a South African 24-hour news channel broadcast on Multichoice's DSTV satellite television service, channel 405 . The channel was launched in August 2013, and operates out of its purpose-built Midrand studio. According to the ANN7 Web Site, it is staffed by a team of over 76 journalists with experience in leading newsrooms like Al Jazeera, CNBC and SKY. ANN7 has dedicated teams for different segments covering a broad range including news, business, sport and entertainment.
"SA Decides" was a flagship ANN7 show for the 2014 South African election period. "SA Decides" visited over 200 towns over a period of 45 days to hear how people felt their lives had changed since the first democratic elections were held in 1994. Nine teams comprising 45 media professionals embarked on the road show and the stories were packaged into provincial news packages, which were aired on the "SA Decides" show daily.
Collette Corthouts, as an independent supplier of professional video & broadcast equipment, and a consultant to ANN7 in 2014, brokered the deal to supply LED light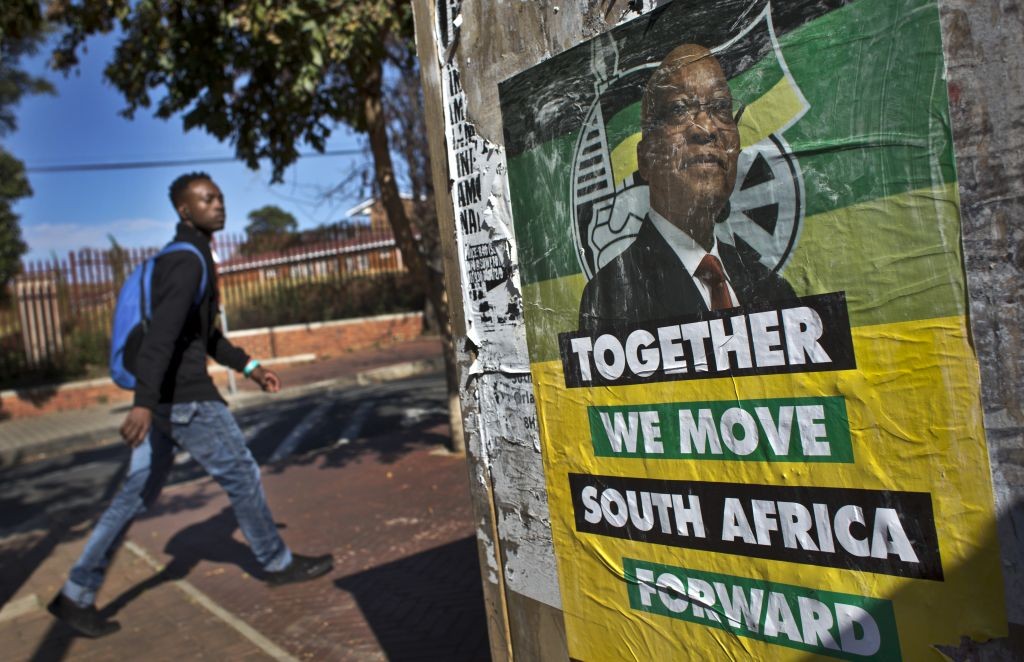 s for the show. The lights chosen were the MVLP-6 1×1 panels, supplied by Macro Video Pty Ltd who are the importers and distributors of the MVLP Led light range in southern Africa.
The MVLP-6 LED light is 5600K and features a dimmer switch / knob on the unit as well as a wired dimmer remote that is useful when the lights are on a light stand.
Barn doors clip on to a metal frame and each unit comes with 4 filters / gels (2x diffusing, 1x 3200K warm filter and 1x for skin tones under fluorescent light). A Sony  V-lock type battery holder is supplied as standard in addition to a 220V Power supply and a 5 metre-long power cable.
The 36 lights were packed into 9 custom-made kits comprising of 4 MVLP-6 1x1panels, V-lock batteries and chargers, all of which were supplied by Macro Video. A complete kit was sent to each of the 9 provinces where ANN-7 had their news teams on location and they were used by the regional news-gathering crew. A year later these lights are still functioning well without any issues and ANN7 has recently also purchased 6 x compact MVLP-10 'On Camera'' LED lights.
___________________________________________________________________________________________________________________________________
MVLP LED LIGHT Customer Feedback – Volume 2
Bullet proof MVLP-30 On Camera LED light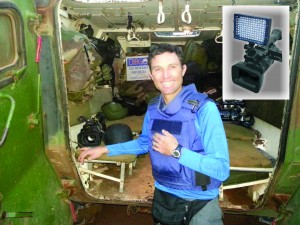 Garwen McLukie is a cameraman / picture editor for Sky News based in Johannesburg covering the African continent and breaking news in any big stories around the world.
Garwen had the following to say about his MVLP-30 On Camera LED light: I refer to my MVLP-30 LED Light as my hostile environment light. It has seen me through from when I first used it on the front lines of the Libyan conflict to Syria and Timbuktu in the Mali conflict. The light weight nature of the light and the option to use AA batteries where charging batteries is difficult, make it ideal for these environments. Together with my mini P2 camera I need totally reliable equipment to be mobile that can get to the centre of the action, carrying the minimum of kit. I am happy with the lightweight and robust design of the light for the demanding circumstances I work in, very often in a bullet proof vest!
I sometimes use the light on a small light stand as a fill in light, not always as a key light on top of the camera . This allows me to place the subject on location when its dark, rather than have the subject lit but with a pitch black background
I vividly remember female Kurdish snipers in Syria. They had literally hoLED up in destroyed buildings and I used the MVLP-30 LED light not on the camera, but offset from the one side to good effect emulating the sun's rays falling through a window to give depth, perspective and drama to the scenes I filmed there. These images were later beamed across the world on Sky News HD.
Camera. LED. Action.
Sound and Video Productions at the University of South Africa (Unisa) has been around the educational block for decades, providing quality education and training material to long distance students around the globe. After all, Unisa has been in existence for 140 years.
With the University growing in stature and changing with the times, and the need for social responsibility and compliance with a smaller carbon footprint, a decision was made to upgrade the old power hungry halogen lighting system in the Video studio. We kept what we could in order to save money. Affordable quality education is what we do.
After intensive research and based on tests and local availability, we contacted Macro Video for a demonstration of LED technology's capabilities. From a technical perspective, we were amazed at the low heat emissions and the impact this would have in the Main Campus Video studio.
The recommendation to upgrade to the MVLP-6 LED panels with DMX means we can expand even more in the future, should the need arise. The whole installation of 12 MVLP-6 LED panels was done by Macro Video in a day, while we were still running the control room next door.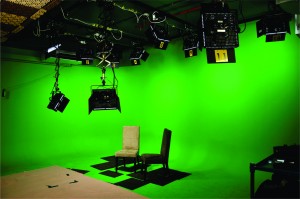 Less heat meant less air-conditioning, which meant a smaller electricity demand. Because these are Light Emitting Diodes (LEDs), their lifetime is not only longer than that of their predecessors, but they are also highly controllable. No more unnecessary iris adjustments have to be made and overall, even lighting is achieved by dimming the LED Panels from the DMX controller. Direct green screen effects are now possible at the touch of a button.
Since we are always busy recording snippets to be placed on the web at short notice, our main concern was after-sales availability. Macro Video in Pretoria did not disappoint during any of our teething stages. Come to think of it, we haven't had any of these LED units changed or serviced. They were simply installed, and now more than a year down the line, not a single service call has had to be made.
From a monetary point of view, no globes means not having to keep stock in case one blows. The University benefits and can channel these funds into other areas to support its students.
So, gone are the days of cooling down studios with air-conditioning between recordings. Chocolate-melting lights are something of the past – not to mention having to keep presenter make-up at hand to get rid of the shine! It is a pleasure to welcome the principal into this lower-than-room-temperature environment and watch him address the Unisa community with ease and poise and shed some light (although be it under our cool LED lights) on vital issues.
Come dine with my LED !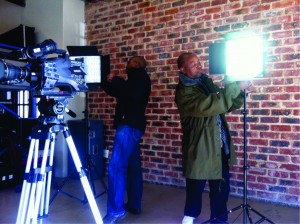 PUMA VIDEO recently needed to add to our already popular LED light panels for the rental department.
Being in the Equipment rental business is a challenging one to say the least, says Henk Germishuizen.
Key is the maintenance of equipment, constantly upgrading equipment and staying abreast with the latest technology available. Another important component is supply-chain and service provider management.
Taking most of the above into consideration, we purchased some the MVLP-6 1×1 LED lights (equivalent to 800 Watt Redhead) from Macro Video. These LED's are single colour, 5400K, and come with filters, one being a diffuser and one for 3200K.
We found them to be cost effective and simple but of durable construction, which means reliability. And in our game that's important. All the panels light output match perfectly, so putting 3 or 4 on a location is no problem what so ever. Another advantage of the MVLP-6's is that all have serial numbers unlike a lot of Chinese stuff that does not. This makes it a lot easier to track, maintain and oversee asset management.
Macro Video has parts in stock in case of disaster and their service is really great. We had some problems with some of the V-lock battery mounts and Eric at Macro Video, sorted this out for us – no questions asked.
Can we recommend these LED lights? Absolutely. The MVLP-6's have been used on Come Dine With Me, Culture shock – Vanilla Productions, Step up or Step out – Endemol, In Depth productions – down and around mines (corporate), Reality Check – Endemol and others
The MVLP-6 LED panels represent value for money and are popular in our rentals department.
Three years later and still going strong underground!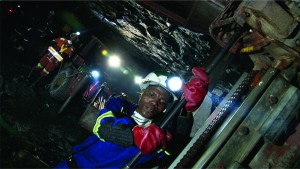 After purchasing my first MVLP on camera light from Macro Video three years ago, I am pleased to report it is still working faultlessly says Neels de Klerk Video from Eye Opening Videos in Pretoria. He previously wrote an article entitled ''LED technology revolutionizes filming underground"
He said "" A lot of my work is in the Mining Industry (Platinum, Gold, Coal) and involves Corporate, Marketing, Safety, Induction and Training DVD's. In the past I have had to take 7 – 8 Battery operated Halogen Lights underground and the mine had to provide 3 or 4 people to help carry as these leadpaste battery packs are heavy. Furthermore a battery only lasts 20-35 minutes. It is also always a problem where to put the battery packs as the working environment is generally hot, wet, dirty and cramped with little space to move. These working conditions are extremely difficult to work in and lugging kit becomes a mission !
Halogen lamps become extremely hot and have a limited lifespan and are a fire risk , with possible severe safety consequences. These LED lights are being used for industrial purpose and as it is pitch dark down in a mine, I often use at least two or three together to give depth to the image. As the MVLP on Camera lights are lightweight, there are no logistical problems transporting them
My MVLP-10and MVLP-30'S have been underground in the mines where I do a lot of filming on many occasions. The lights are small, compact and rugged enough to take the wear and tear in a very harsh underground environment and running times on Sony NPF batteries are phenomenal .
___________________________________________________________________________________________________________________________________
LED lighting customer feedback – Volume 1
1×1 MVLP-6 Led panels: Great in studio, on location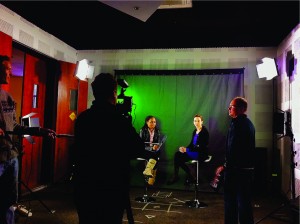 When Allos Consulting's Simone Zanetti, based in Midrand was looking at 1×1 Light panels on the internet, they came across the MVLP-6
LED Light Studio panel from Macro Video doing a Google search. They immediately purchased three units with Sony Vlock mounts from Macro Video that import the MVLP LED Panel range.
Allos Consulting (Pty) Ltd produces, short, high-impact video solutions for various clients, both in studio and on location. Andries Jordaan, Art Direcor, Allos Consulting says: " We required a lighting solution which encapsulates different requirements for setting up any filming environment, be it in studio or on location. The MVLP-6 LED Panels fit these requirements perfectly. The small, lightweight devices are easy to contain and transport.
The MVLP-6 LED Panels are energy efficient which is of great value as the units run on Sony V lock or Anton Bauer mount batteries. This comes in handy on location where connecting to main power is difficult or not possible. Furthermore, this functionality gives us creative freedom as far as lighting goes, as the small units can be setup in a nonconventional way in many different environments because of the selfcontained power.
As we often work with high-profile individuals, it is important for us to be able to maintain the most comfortable filming environment/set as possible. The fact that the MVLP-6 LED Panels emit very little heat aids tremendously in this objective. In addition to this, when it comes to changing our lighting setup, there is no time wasted waiting for lamps to cool down as the units can be handled easily and safely on the fly.
Overall, the MVLP-6 LED Panels not only saves us on production time and cost, but adds value to our creative process and vision. We won't leave our studio without them! "
Led technology revolutionizes filming underground
Neels de Klerk Video of Eye Opening Videos in Pretoria has been in the corporate video Industry for 20 years and is the producer of The Story of Platinum, a 90 minute documentary of the discovery of platinum and its development into one of the most valuable precious metals.
Neels continues:
"A lot of my work is in the Mining Industry (Platinum, Gold, Coal) and involves corporate, marketing, safety, induction and training DVDs.
Most of my work is done underground where it is semi dark to dark with only your head lamp for lighting. Using electricity and "Red Heads" for lighting is not an option for filming underground and in the past I have had to take 7 – 8 Battery operated Halogen Lights underground. The mine had to provide 3 or 4 people to help carry as these leadpaste battery packs which only last 20-35 minutes each. As the working environment is generally hot, wet, dirty and cramped with little space to move, lugging this kit becomes a mission!
Halogen lamps become extremely hot, sometimes inflicting burns on the camera crew. The globes have a limited lifespan and pop from time to time and pose a fire risk, with severe safety consequences.
The MVLP-10 On Camera lights I purchased from Macro Video Pty Ltd produce about 60 Watts of power, the MVLP-30 about 100 Watts. Eric Wiese explained that the light output is a broad beam of light powerful enough to use underground compared to my 100 Watt Halogen with a spotlight effect. LED technology has changed the way I work as it has addressed three major factors : weight, running time on the battery and safety. What a pleasure !
These LED lights are small and compact, fit on top of the camera and run on penlight batteries. A set of rechargeable AA penlights can last for more than an hour. Using small, compact long-life Sony NPF batteries can last more than 4 hours. The actual LEDs in the LED panel have a lifespan of thousands of hours. Changing the light output with its built-in dimmer is very important in the cramped working environment as bright white overalls contrast against pitch-black backgrounds.
These days I just need to take three LED lights with me and only need one person to help with a back light.
Doing work above ground in offices has become easier as well. I use one or two LED lights for all my work (one in front and one for backlight), interviews, working environments, labs, functions, or whatever. I cannot remember when last I used my Red Heads !"
Umlingo Productions Barry Hamman reports on the advantages of carrying LED technology up Kilimanjaro, raising awareness against drug abuse

Umlingo Productions is a Television and Studio Production facility situated in Rivonia and inside the Telemedia Complex.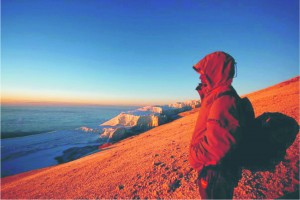 According to Hamman, they have been involved in productions ranging from sport inserts for Supersport to small television adverts. Our speciality however, is live television and the studio has also done small game shows for KTV , Endemol and SABC 3.One of our latest projects is following and documenting businessman and entrepreneur Marco Broccardo as he summits the highest mountain on each of the 7 continents to raise awareness and funds in the fight against drug abuse in South Africa.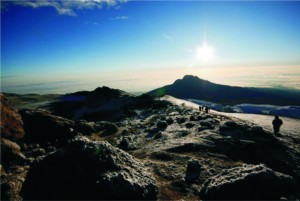 Climbing Kilimanjaro we were faced with challenges surrounding lighting, power and temperature. As much of the climb is in dense rainforest, higher altitude in cloudy and foggy conditions or in dark tents we needed lighting for our cameras that was lightweight, durable, didn't mind being banged around and lasted for extended periods. After much research we approached Eric Wiese at Macro Video to supply us with the new MLVP – 10 on camera LED light.
First of all, this little gem was inexpensive. Secondly, it suited our needs in terms of power consumption and the range of batteries it can take. With a mixed kit like ours the MLVP-10 can use Sony and Panasonic camera batteries and can also use 6 standard AA penlight batteries. Thirdly, the MLVP – 10 weighs next to nothing so it did not add any noticeable difference in weight to our camera kit.
The MLVP – 10 is very bright pushing out an adjustable 700 lux which at its highest setting.We ended up using the MLVP – 10 for a few interviews in the tent as well as an interview on summit night as hiking for this day starts at 11 pm and goes until 7 am. It is a great light that worked exactly as expected.
One of the crew accidentally switched it on while rummaging through the kitbag during day 5's hike from Mawenzi Tarn to Kibo hut. Already low on battery power with the sun not been kind during the trip to get decent charge from our solar panel, imagine our dismay at the next stop: The MLVP – 10 had been left on for roughly 4 hours. We all sighed with relief when the battery indicator still showed 4 of the 5 indicator lights – plenty of power left! We still ended up using the MLVP – 10 as lighting for inside our tents and for occasionally popping out in the dark to use the loo.
Even though the light seems a little lightweight, we have found it to be rather durable (it did survive our cameraman up Kilimanjaro) so a few bumps and grinds won't destroy it during travel. Coupled with its price which is below R1500 per unit this light is a great product and good addition to our kit. We are very happy using this product in the field over any of our other lighting options."
 MVLP-6 LED studio light compares well in Namibia
Originally from Edinburgh, Scotland, Simon Wilkie graduated in cinematography from the National Film and TV School, Beaconsfield, England and has over 15 years experience as a professional cameraman, working mainly on documentary productions. Simon says, "Lately I have been shooting more commercials and the odd drama, but I am happiest shooting doccies. I have been living and working in Namibia permanently since 1996 and am a Director of Mubasen Film & Video Productions (Pty) Ltd and a member of Collective Productions cc.
When we took delivery of our MVLP-6 LED Panel I just happened to have 2 LED panels from a leading US brand in my studio and was able to make a side by side comparison. There is no doubt, the US lights are built to a very high standard and everything fits and works extremely well. At a price of around R20 ,000 each you wouldn't expect anything less. On the other hand the MVLP-6 LED Panels at a quarter of the price are solidly constructed to a sound design, although the quality of finish could do with improvement in a couple of places.
That being said, they handle very nicely and actually produce a third of a stop more light than even the spot version of their US cousins which have a 30 degree angle of beam. The MVLP-6 studio LED lights were used on the set of a short film titled Orange Juice, directed by Tim Huebschle.
I've used the MVLP-6 LED Panel on a couple of shoots and am very happy with both its ease of use and amazing quality of controllable soft yet directional light. A daylight-balanced source which produces minimal heat is a real asset for augmenting available light when shooting interviews and I immediately contacted my supplier to order another unit from Macro Video in Pretoria."
Vendor comment by Eric Wiese, Macro Video Pty Ltd
Macro Video is delighted with the positive feedback on its LED products. We had not anticipated that our product would have had such an impact on how film makers light their subject – from the depths of South Africa's mines to the top of Kilimanjaro. LED lighting is changing the way the industry lights up ! Macro Video will stay at the forefront of this technology.
LEDs are increasingly being used for lighting as they are energy efficient; do not produce heat; use a fraction of the amount of power required by a conventional halogen or incandescent globe; and are therefore environmentally friendly. The MVLP-10 on camera light is equivalent to a 50/60W incandescent lamp has proved to be a best seller. The MVLP-6 Studio Led Panel with the equivalent output to a 700 Watt redhead in flood mode sold out within a few weeks after its initial release !
More and more people in the broadcast industry are discovering the advantages of LED technology which is environmentally friendly and has virtually no disadvantages.
___________________________________________________________________________________________________________________________________