On Camera LED Lights
MVLP-10 / MVLP-30 'On camera' LED light The MVLP-10 and High power MVLP-30 are cost-effective on-camera LED lights that are energy efficient, giving longer running times off small batteries. MVLP-10 will typically run for more than an hour on a set of 6 penlight (AA size) at full power. Extremely versatile and ideal for video or stills photography on the run, the MVLP-10/ 30 are the ideal daylight balanced interview LED light sources, providing 5400K and 3500K with included tungsten filter 7 Different battery power sources. No cables, No fuss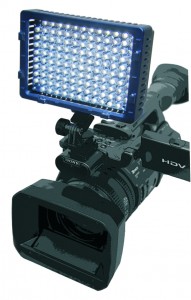 Runs on 6 x AA Batteries (Alkaline or rechargeable)
Also powered by selected Sony and Panasonic batteries:
Sony NP-F: NP-F570, NP-F750, NP-F970 types
Sony NP-FH: NP-FH50, NP-FH70, NP-FH100 types
Sony NP-FM: NP-FM30, NP-FM70, NP-FM71, NP-FM90 types
Sony NP-FP: NP-FP30, NP-FP50, NP-FP70, NP-FP71 types
Panasonic (Adaptor supplied ) CGR-D08, CGR-D16S ,CGR D 120 , CGR-D 220 types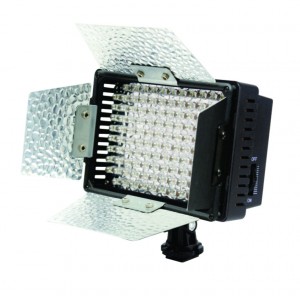 MVLP-10 / 30 Features / supplied and included as standard
3 filters/ gels (1 x diffusing, 1 x 3200K warm filter and 1 x for skin tones )
Voltage remaining display indicator
On-Off switch with dimmer control
LED lifespan is 10 000 hours.
MVLP-10: ABS geared plastic hot shoe fitting with angle adjustment Brightness: 700 Lux (1m) comparable to a 60 Watt incandescent lamp MVLP-30: Highly versatile & robust metal ball and socket hot shoe mount Brightness:1500 Lux (1m) comparable with 100 Watt lamp. Barndoors included Options :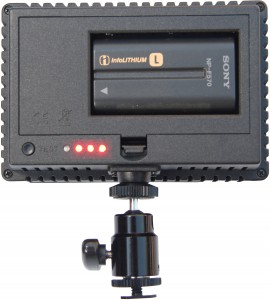 220Volt power supply for running the ''on camera'' lights on mains as a small studio or fill in light
Compact 1.7m light stand
Canon DSLR battery adapters
A complete compact lighting kit is also available
Various optional mounting accessories are available
ALL MVLP LIGHTS HAVE SERIAL NUMBERS AND COME WITH A 1 YEAR GUARANTEE FROM LOCAL SUPPLIER
Studio LED Panels
MVLP-6 1×1 LED Studio panel The MVLP-6 is a 1×1 LED light, Colour temperature 5400K. Light output is 4500 Lux, equivalent to an 800 Watt redhead and is therefore the ideal redhead replacement. It is extremely versatile and can be used for 220V studio and outdoor (portable) applications as it comes with a battery mount MVLP-6 is supplied with the following as standard:
U mounting bracket with spigot hole;
On/Off switch on the unit;
A dimmer switch/ knob on the unit;
Wired remote dimmer connector port;
Wired remote control dimmer (useful when the lights are on a light stand for instance)
4 Barn doors on a metal clip on frame
4 filters / gels (1x diffusing, 1x 3200K warm filter and 1x for skin tones) Power supply Power supply holder that clips onto the V-lock Sony V-lock type battery holder/ mount (Panasonic Anton Bauer mount available on request)
5 metre long power cable
Options: A wireless remote to control up to 4 lights is available Light stands are available. A soft box option is available that clips onto the MVLP-6.This is great for soft studio lighting. Complete lighting kits are available in various protective carry cases that have been carefully designed for this purpose. Batteries and Chargers can also be supplied. A soft box is available that you clip onto the light after clipping off the barndoors. The DMX version of the MVLP-6 is ideal for larger studio and stage installations were a separate lighting desk controls each of the lights individually. An infinite number of MVLP-6 DMX LED lights can be daisy chained together. The MVLP-6 DMX is similar to MVLP-6, except:
Supplied with DMX/ Dimmer switch
2 x 3 metre DMX cables
3 metre power cable.
It has no wired remote control dimmer and no remote dimmer connector port. No V-lock type battery holder is supplied.
MVLP Lighting Kits
Macro Video has made up various lighting kits to meet your requirements.
There are basically three types:
The Compact or Interview lighting kit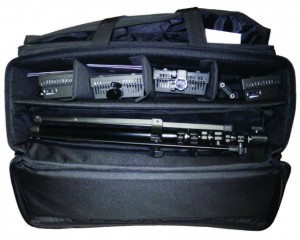 Both MVLP-10 and MVLP-30 'On Camera' LED lights can also double as studio lighting for a small studio because of their powerful light output. From camera to light stand and back again -extremely versatile ! A kit of 3 or 4 of these lights is ideal as a compact interview kit , approx 60cm long. This padded Nylon custom made bag for (max) 4 lights , 4 compact 1.7m stands with special spigot to hotshoe adapters , batteries, chargers and other items has been designed by Macro Video for this purpose. We can put together a kit with 2, 3 or 4 lights, either the MVLP-10 or MVLP-30 or a mix of both to suit your application.
A special 220 Volt power supply allows you to run these 'On Camera' ligts off 220Volts. Very versatile.
We supply Sony type NPF batteries and chargers which are lightweight and perfect companions to the MVLP-10 and 30 . These also fit into the kit.
The Studio lighting kit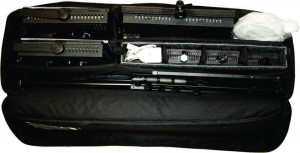 A heavy duty carry case with reinforced grab handles is available for up to 3 MVLP-6 1×1 Studio panels and 2,4 m extendable light stands. It also has place for up to 4 'On Camera' MVLP LED lights which are often used together with the studio lights to highlight hair / and fill in backgrounds etc. The size of the bag is dictated by the length of the light stands, but fits comfortably into a car. This large bag therefore has plenty of storage compartments for batteries, chargers, cables, filters etc to keep all your equipment together. There is even a space provided for an equipment checklist!
Bag for MVLP-6 1×1 Studio light heads only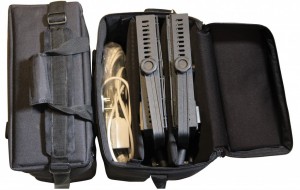 We can also supply a padded nylon bag to protect the MVLP-6 light (head) only. This is a 3 compartment bag, easy sling over the shoulder and has place for two MVLP-6 1×1's and space for its power supplies and filters and cables. A single light carry bag is also available.