Streaming products required for social distancing, lockdown and isolation
With the  Covid-19 or Corona virus ,  gatherings of people is not allowed, and not safe. With many people in self isolation, lockdown, quarantine or exercising social distancing, Churches , schools , colleges , universities, medical facilities and many other meeting places still need to get their message out to the public.
The answer is streaming what you/ your clients have to say directly to the internet, or posting recordings on the net to watch later. No masks, sanitiser or washing hands required!
Datavideo has produced a simple 14 page guide called '' Streaming Basics '' . You can download this guide here
Datavideo streaming equipment is easy to use, compatible with all major streaming platforms and very cost effective, even with the poor rate of exchange.
As the importers of Datavideo products in Southern Africa, we can supply various products that assist with streaming video:
Cameras with built in streaming facilities.
Simple, cost effective and very little else required ( except a Laptop/ PC/ Mac etc) to stream directly from these cameras!
Stand-alone hardware streaming encoders
These units convert a video and audio signal from (eg) a video mixer/ switcher or any other video signal and connect to a PC/ Laptop via a network cable which can then be streamed live to Youtube , Facebook, Zoom, and other social platforms as an example.
Datavideo has decoding 'set top' boxes as well ( Decoding IP back to HDMI / SDI video and audio signals )
COMPLETE  MOBILE  VIDEO production solutions which will Mix, Switch, Record and Stream
Highly portable all in one 'carry case' solutions ! All you need to do is plug in your power, cameras , laptops and PCs  and then Mix, switch, stream and record the output of the selected input signals. Datavideo is the market leader in innovative portable solutions. All current ''Mobile Cast'' studios feature a streaming encoder and SD card recorder on board! Macro Video custom build mobile solutions using various components. This allows you to integrate the equipment you require and allows equipment to be added piece by piece as budget allows
Datavideo software
A streaming server solution that can run either locally or in the cloud.
Streaming solution direct to smartphones with horizontal and vertical mode.
Cameras with built in streaming facilities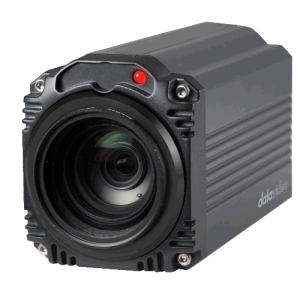 Datavideo BC-50 is a static or block camera, with a 20x Optical zoom and a large sensor. It is a very easy to use, small and very cost effective camera with a streaming encoder on board. The mini jack audio input on the back can accept a simple microphone for audio embedding. This unit can stream completely on its own, independent of a mixer/ switcher! Hook it up to the internet, configure it once only and be live in seconds. Perfect for classrooms or streaming from your living room!
The BC-50 is compatible with all major streaming networks around the world that support external RTSP encoders, including Youtube Live, Facebook, LinkedIn Live.
Datavideo PTC-140 is a remote control PTZ camera that can pan, tilt and zoom.  Has a 20 x Optical zoom and built in streaming encoder on board. Add audio from a simple audio mixer or a lapel mic via mini jack supplied and you're live in seconds. This unit can stream completely independent of a switcher! Perfect for board rooms.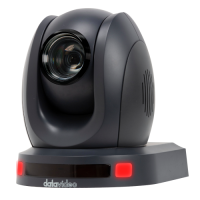 COMPLETE  MOBILE  VIDEO production solutions that Mix, Switch, Record and Stream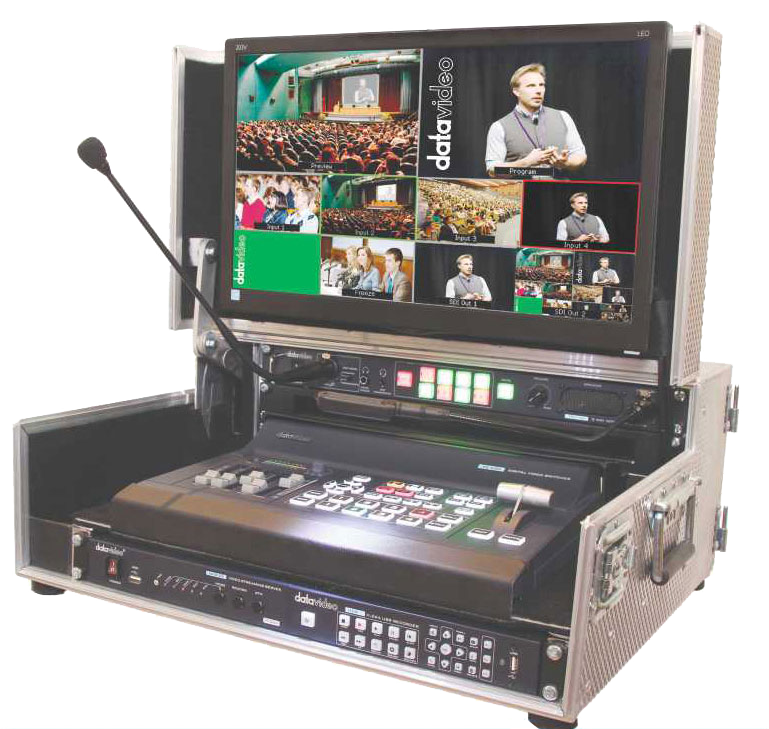 Mobile Video Studios by Macro Video
Macro Video produces  custom made Hand Carry Solutions ( HS) or Fly Away Kits by mounting various components as per client requirements in custom-designed aluminium cases. These systems are custom-built, based on the Datavideo SE-500HD and SE-650 4 input mixer/ switchers.
We build the switcher into a case with an HD 19'' screen, all video and power cables and an integrated power supply as a basic portable system
This modular system allows almost any combination of additional equipment such as Datavideo's NVS-33 streamer/recorder,  comms and tally system, hard drive or USB recorder, distribution amplifiers, and various converters) to be installed in the aluminium case which has a  full HD 19.5'' LCD screen mounted in the lid.
The case provides protection for the equipment and makes it portable, with almost no set up time on site . One can buy everything together, or buy piece by piece.
With the appropriate component(s), these hand-carry solutions will also SWITCH, MIX, RECORD and STREAM !
The two HD 4 input mixer / switchers we can install in a portable case for you are : 
Datavideo SE-500HD. It has 4x HDMI inputs and 2x HDMI outputs
Multi format 720p, 1080i or 1080p Input, Quadsplit preview output of the 4 inputs, Built in audio mixer  and lumakey.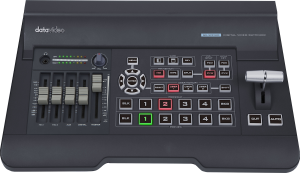 Datavideo SE-650 has 2x HDMI and 2x SDI inputs  and 1 SDI out and 2x HDMI outputs .
See link : https://www.datavideo.com/af/product/SE-650
Has Multi preview output, good Lumakey and 2x Chromakeyers , allowing you to overlay  text and graphics etc  on top of live video – excellent for conference centres, churches , lectures etc as you can put  text , ie the names of speakers and logos as a layer on the screen. Also has a one button ''LOGO'' button and can store 500 stills. Excellent value for money
Datavideo's Mobile Cast studios

Datavideo's Mobile Cast studios are complete all-in-one studio solutions with a multiview monitor in a transportable handcarry case design. Complete solutions with SD card recording, streaming encoding and complete switcher control panel on board. All you need to do is plug in power and your Cameras, laptops and PCs and then Mix, switch stream and record the output of the selected input signals.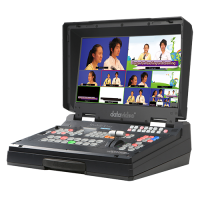 Mobile Cast HS-1600T is a 4 input HDBaseT  1080i /1080p switcher that has 3 HDBaseT inputs compatible with Datavideo PTC-150T and PTC-140T cameras plus 1x auxillary HDMI input. This complete Mobile Cast solution features remote PTZ camera control and also a streaming encoder plus SD card recorder on board. One box that does everything. Product bundles based around the HS-1600T  exist. See info under ' Streaming Bundles '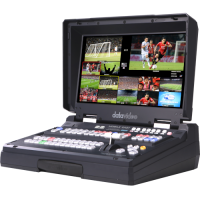 Mobile Cast HS-1300  is a 6 input 1080i switcher  ( 2x HDMI + 4X SDI )  and has 2x HDMI + 4x SDI outputs as well as a Network connector output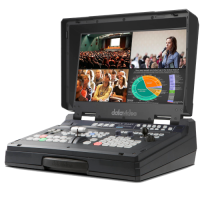 Mobile Cast HS-3200 is the multiformat switcher in the Mobile Cast range with 12 inputs – you can input 720p, 1080i and 1080p, ( 8x SDI + 4x HDMI )  as there is scaling on each and every input. This flagship unit has 9 outputs ( 5x SDI + 4x HDMI ) outputs, which can also be scaled to 720p, 1080i or 1080p,  Also built in streaming encoding and SD card recording so you can be live in seconds.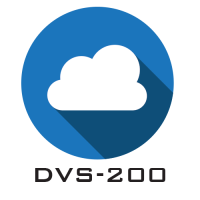 DVS-200 a streaming server solution that can run either locally or in the cloud. This streaming platform allowing the user to encode, transcode, record and deliver real-time video to multiple devices suvh as mobile phones, different streams to computer-based users and again different streams to users on all major social media channels eg. Facebook or Youtube, all in real time. DVS-200 can handle multiple ingestions at the same time, making it a multi-channel recorder as well.
Datavideo cutout processor switcher streaming direct to smartphones with horizontal and even vertical mode


Datavideo KMU-200  is a brand new unit which is a combination of the KMU-100 (cutout processor) and a switcher. With an UHD ( 4K) input and intuitive touch screen control you can select portions or up to 4 cutouts of the screen to output. This gives you the freedom of a PTZ camera while having just a single stationary UHD or 4K camera! This unit also has a built-in H.264 encoder , can produce vertical video, This feature is brilliant for users today with many people watching videos by their smartphones. KMU-200 achieves Landscape & Vertical Mode streaming in one unit.
Datavideo has various complete ready-for-production bundles based around the product range. These bundles are suited for rapid deployment where ease-of-use and speed are key factors.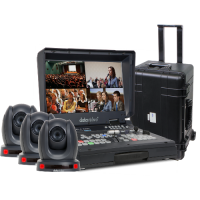 STR-100 Corporate streaming bundle. This is meant to be used in board rooms, meeting rooms or home offices. Two streaming BC-50 cameras can be installed in meeting rooms, with two streaming encoders, video content transcoder/server that will serve multiple platforms at a time and four decoders with video outputs. This system provides an end to end content delivery solution for any webinar or conference. With the integrated DVS-200 server it will allow you to stream to multiple social platforms at the same time and or record sessions for later playback.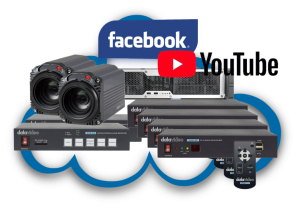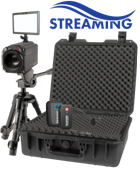 STR-200 Complete teaching bundle for teaching from remote location This simple streaming bundle is based around the compact but powerful BC-50 block camera that as a streaming encoder directly on board the unit. The network port on the back goes directly in your network outlet and away you go. You only need a PC for initial setup, thereafter its plug in and play.
Included in this Datavideo STR-200 kit is a wireless audio mic , a small on camera video light with battery and charger , and a small tripod that makes sure everything is stable and sturdy on a table. Everything can be stored in the Datavideo HC-300 suitcase.
SEE: https://www.datavideo.com/af/product/STR-200. Note: Macro Video would import the BC-50 camera from Datavideo overseas and could supply the additional  mic, light , tripod and case  sourced locally to save costs.
All Datavideo products are covered by an extended one year guarantee + a free extended 2 year guarantee via online registration, thus effectively giving you peace of mind for  three years . Terms and conditions apply